Enterprise Integration
Technology Revolution and Evolution at a Dynamic Pace has totally changed how Business operates, grow and capitalize on their existing Domain Expertise. The dominance of Established Corporations over the upcoming smaller competitors to provide the same level of services has been greatly reduced by leveraging Technology to make the Business more responsive and adaptive to the changing market needs. Seamless Integration of your systems, process and functions within the Enterprise and with External Partners can set your Organization on the path to provide a richer set of products to your End Consumers. Our Integration Experts can help you build reliable, scalable, highly performing, secure integration solutions that are dynamic enough to meet the evolving Integration needs of an actively Growing Business.
OUR APPROACH
Holistic View of an Enterprise
Enterprise is not a single Business Organization but a collection of Entities big or small that contribute to the overall experience delivered to the End Consumer. In fact our extend view of your enterprise includes the different departments within your Organization and all the Vendors, Service Providers and the Consumers of your end products. This holistic view allows us to provide you with services that will provide a positive and rejuvenating experience to all the extended entities involved in your Business.
Enterprise Architecture
Enterprise Architecture allows you to clearly identify the role of individual Business Units, Business Partners and Consumers. It allows clearly articulating the Capabilities, Challenges and Missing Links across these Units and allows to strategically approaching their needs to promote stability, adaptability and the ability to innovate safely and coherently. Our expertise can help you have a strategic approach to designing your architecture across Business, Data, Application and Technology layers.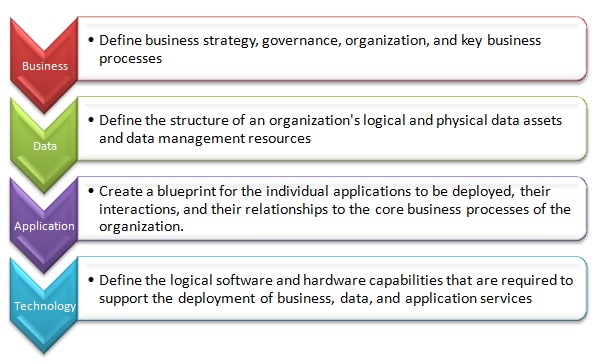 Integration
In the current world the landscape of IT Technologies leveraged to resolve business needs are immense and any modern enterprise that expects to take advantage of this diversity of tools needs to rethink their Integration Strategy. To keep your business agile it's prominent to ensure there is no tight coupling and point to point integrations within your business applications. It is not uncommon for business to quickly integrate their applications with external vendors and partners to provide innovative solutions to their customers.
With a proven history of helping our clients in the Integration workspace we can guarantee you robust, flexible, extensible and manageable Integration solutions that suit your in house technical expertise and aligns to your enterprise architecture.
Visibility
Effective management and exploitation of information through IT is a key factor to business success, and an indispensable means to achieving competitive advantage.
We strongly believe that integration is not just about making applications talk to each other for automating your routine jobs but should focus on delivering the ability to extrapolate from this a foundation to allow structuring, organizing, and categorizing the Business information that provides the leadership with the acumen to quickly understand the dynamics and variables of business and be responsive rather than reactive to the changing market demands thereby extending business innovation and permitting the closest synergy across the extended enterprise.